Our farm guest rooms in Burgundy remain a perfect stop for a visit to Beaune.
Since it was founded in 1443 by Nicolas Rollin, the Hôtel-Dieu has born witness to the Flemish influence of the Duchy of Burgundy.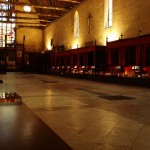 You may well be surprised by its vivid interior courtyard. By also its half-timbered gallery, turrets and multi-colored roof tiles.
Right up to 1970, the Sœurs Hospitalières (nuns) took ...
En savoir plus →
Share