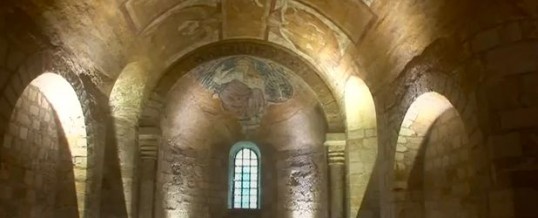 Located near our nice guest house in Burgundy it is very modest in its creation. Saint Germain Abbey.
This Benedictine Abbey, was founded in Auxerre at the 5th century by St Germain of Auxerre.
 The abbey will gain momentum in the VI th century, thanks to Queen Clotilde. At the IX th century, it houses about 600 monks and receives more than 5,000 students. The Abbey will extend until the end of the middle Ages. She owned the largest religious treasure of all time. To avoid being looted, monks have won out and hidden. Today, it has still not been located. Maybe you will find it in one of the many caves of our region…
You will discover in the beautiful crypts of the IX th century frescoes.
A little away, St. Etienne Cathedral stands on a calmer square  an ornate façade and surprises once the gate is crossed by the momentum of his elevation. Magnificent example of a Gothic mature. For its beauty, for its collections of treasure and especially by all admirable stained glass among the most sumptuous of the thirteenth century, it surpasses all regional characterization. The crypt of the Cathedral is the remains of a Romanesque church and is decorated with an amazing fresco dating from the eleventh century: christ and four angels, each mounted on a white horse.
You are the most welcome to contact our nice guest house for accommodation when visiting Auxerre.
http://www.auxerre.culture.gouv.fr/en/index.htm
Share