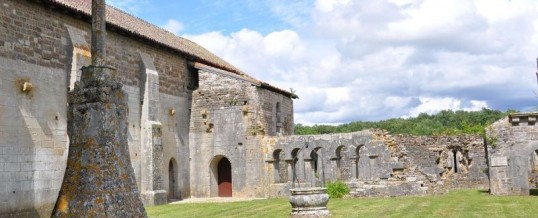 A jewel among the fields:
Near Sauvigny-le-Bois, just a few kilometers from our guests accommodation in Burgundy, Grandmontain priory of Saint-Jean-les Bonshommes was saved from ruin by the Société d'Etudes d'Avallon. A treasure to discover during their numerous concerts next summer.
A beautiful church in an austere elegance, the remains of a cloister, a chapter house, and a refectory … An architectural marvel nestled in the woods and near the village of Sauvigny-le-Bois, near Avallon: the old priory of Saint-Jean-les-Bonshommes. During summer, many musical events allow to spend beautiful evenings in this magical place.
Founded in the early thirteenth century by the order of Grandmont on the site of a former sanctuary- from which emerge, it seems, beneficial waves – the monastery counted 13 religious in 1280. In 1317, it became part of the Vieupou monastery (on the actual township of Poilly-sur-Thollon). Particularly interesting, the church has a vaulted nave made in brick and the apse in half dome. Sold as national property during the Revolution, badly damaged by fire in 1846 that spared the church, the priory eventually served as a stone quarry. La Société d'Etudes d'Avallon., who bought it in 1905, received its classification as historical monuments and formerly created a lapidary museum.
For over a century, the association strives to preserve and make known this building, through a variety of entertainment. Each time, the participation is free; funds raised are invested in safeguarding the priory.
Please feel free to contact our guests accommodation for lodging.
Source Françoise Lafaix
L'été dans l'Yonne
Share