Aperitif: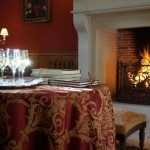 Served around 7.30 pm, Aperitif is a convivial moment to get to know the guests around a glass of regional wine. We offer every night a different wine, Chablis, Côte d'Auxerre, Saint Bris Sauvignon, Crémant de Bourgogne … Depending on the weather and season; we take an aperitif in the garden, in the sitting room or by the warm fireplace for a cosy ambiance at our bed and breakfast..
Dinner: 39 € per person (1/2 btle. wine included)
(prior to a booking at least 2 days in advance)
We put all our heart for our table d'hotes. First of all, a beautiful table: embroidered or damask tablecloth, French china, crystal glasses, family silverware for the meal to be a feast of the eyes before the taste buds.
Our cuisine is prepared with fresh products from surrounding farms and vegetables from our garden. You will discover our regional specialties and different areas of France.
Our menu consists of an appetizer – Hors d'oeuvre – Main course – Cheese plate and dessert. Half a bottle of wine per person completes our menu. In case of long stay, be aware that our menus are renewed every day.
During the meal you can enjoy the various wines we select from growers that we appreciate:
Chablis, Irancy Epineuil, Cote d'Auxerre, Hautes Côtes de Beaune, Hautes Cotes de Nuits, Mercurey …
The same meal being cooked for all of our guests, we cannot, alas, take into account the dietary restrictions: allergies, vegetarian or vegan options.
We do not serve dinner on Thursday nights, and will be happy to recommend a restaurant nearby.
Tariff per person
39 Euros, including half a bottle of wine.