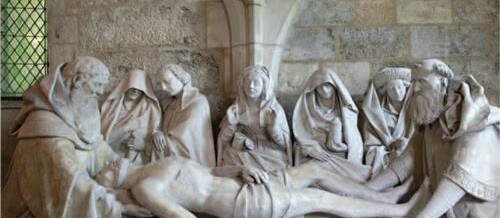 Carpe Diem, comfortable B and B in Burgundy, presents the « patients hall » of Tonnerre at the Hotel-Dieu.
One of the oldest and largest hospital monuments of medieval France.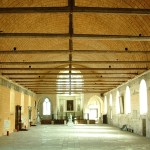 Main town of the Chablis region, Tonnerre is the cheerful, busy center of a wine-growing area producing red, white and rosé wines. These are not 'Chabli's' at all but come under the Tonnerre and Epineuil appellations.
The Hotel-Dieu was founded by Marguerite de Bourgogne, Saint Louis sister-in-law. The building was finished 1295. Its measurements are impressive. The ceiling and fantastic woodwork in the form of an overturned ship are made of oak. An impressive amount of treasures, 700 years of history.
In the lofty old quarter with its 11th-century Eglise st-Pierre, some other medieval buildings have survived, notably the 13th century Hotel-Dieu or Ancien Hôpital, a vast and gloomy building. Inside, it has a high and beautifully timbered barrel-vaulted roof with oak framework rising over the stone walls and floor of the main hospital ward. It looks a grim place in which to lie sick.
Patients were arranged so that they could see the altar at one end, with its notable carving of the Entombment. Just around the corner from the Ancien Hôpital, a savings bank now occupies the aristocratic Renaissance Hôtel de Uzès, birthplace of the enigmatic Chevalier d'Eon.
Please feel free to contact our comfortable B and B when visiting Tonnerre.
http://www.vineestonnerroises.com/
Share