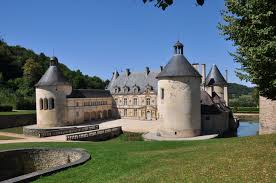 Please feel free to contact our nice farm house for your accommodation when visiting Burgundy.
Bussy-Rabutin Château:
This beautiful Renaissance chateau located near our nice farm house in Burgundy dated XII and XIV century.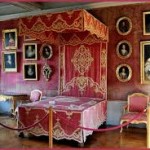 It is classified as historical monument. Situated near Montbard, Fontenay Abbey and Alesia. Surrounded by a 34 hectare park with its moat, fountains, ponds and  its French gardens designed by Le Nôtre. Containing a collection of more than 500 portraits of illustrious personages of the court of France.
Two great towers of the fifteenth century connect through harmonious Renaissance wings built around 1520 the central block built at the time of François de Rabutin and his son Roger, author of the amorous history of the Gauls in the first half of the seventeenth century. During his years in exile in Bussy-le-Grand, Roger de Rabutin also did realize the decoration of his castle. Suffice it to mention the Golden Tower and the gallery of portraits of women yard, mythological subjects, Louis XIII, Louis XIV or Richelieu, to understand the importance of the testimony of the province of aristocratic life; it depended on the whims of the royal favor, confirming a taste for the references to antiquity. The state is Owner the castle since 1929.
Call our nice farm house for availability.
http://www.monuments-nationaux.fr/en/
Share