Our farm guest rooms in Burgundy remain a perfect stop for a visit to Beaune.
Since it was founded in 1443 by Nicolas Rollin, the Hôtel-Dieu has born witness to the Flemish influence of the Duchy of Burgundy.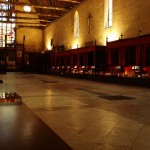 You may well be surprised by its vivid interior courtyard. By also its half-timbered gallery, turrets and multi-colored roof tiles.
Right up to 1970, the Sœurs Hospitalières (nuns) took care of orphaned children, the sick and the destitute in this harmonious setting.
Centerpiece of the Hôtel-Dieu the Great Hall or Salle des Pôvres. A huge ward- 46m long with stone walls and a flagstone floor under a magnificent timber ceiling. Immaculate beds, within heavy curtains and each with its polished table and chair. It may look inviting, but all was not as it seems- when Louis XIV visited the hospital. He was amazed and shocked to find up to four patients in each bed and he immediately ordered that women and men patients should not be placed in beds together!
Hospices de Beaune owns a vineyard of almost 60 hectares in Côte de Beaune, Côtes de Nuits and Pouilly-Fuissé. The produce from these vines is sold in an auction on the 3rd Sunday of November to connoisseurs and professionals from all over the world. This public event is the opportunity to taste and to find out about Burgundy wines….
Festivals and architecture apart, the Hospices also include a museum with unsuspected treasures.
Contact our farm guest rooms for your accommodation when visiting Burgundy.
http://www.hospices-de-beaune.com/
Share