Our charming warm  b and b is an ideal place to stay before or after a cruise on the canals of Burgundy.
Built between the 17th and 19th centuries. Burgundy's canals came up against competition from the railways. Today they bear witness to the history of the "regions" through which they pass.
The canal du Nivernais was used to transport wood from the Morvan towards Paris. In Clamecy you can find out more about the famous "wood floaters".
Right up to the middle of the 20th century, generations of barges earned their living on four of them. Canal de Bourgogne, canal de la Marne à la Saône, canal du Centre and canal de la Loire.
Whether you hire a cabin boat for a weekend or a week, you are in for a few surprises. At Pouilly-en-Auxois, for example, a 3 kilometer tunnel runs between the Seine and Rhône basins.
Situated between the river and la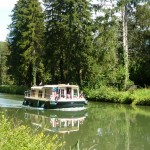 nd routes. Linking the two major developing homes that are on one hand, the Mediterranean and the facade of the North Sea. And on the other, border areas who once ruled the German power east and the kings of France to the west, Burgundy is a transition area and crossing area.
You can also go along the 'voie verte' and the cycle route… another way of exploring Burgundy's canals, with family or friends, while staying at our bed and breakfast.
Make Carpe Diem your warm b and b during your trip.
http://b.bourgognefranchecomte.fr/canaux-de-bourgogne/
Share