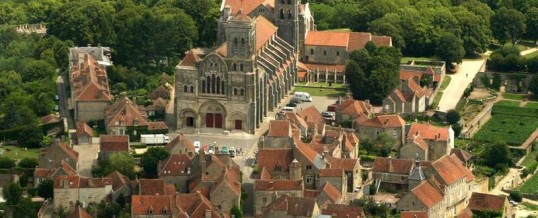 A few kilometers from our charming bed and breakfast, enjoy the location of Vezelay and its basilica. It stands on top of the eternal hill, a village that blossoms amidst vineyards, nothing like hiking to observe all the beauty of this remarkable site.
Vezelay is a UNESCO World Heritage Site, for its hill. For also its basilica, and the Vezelay route for the roads to Santiago de Compostela.
When you are on the way to Vezelay, one is seized by the discovery of the basilica which dominates the surrounding villages. If you arrive from Avallon, Asquins or Clamecy, one observes the religious building from a different angle. Arrived on the spot, you will leave your car at the foot of the eternal hill, to start a climb on foot to the basilica. Good walkers will be able to take the little steep path that connects Asquins to Vezelay. This itinerary will allow you to discover the Chapel de la Cordelle. This is where the soul of Saint Bernard and the sweetness of Saint Francis of Assisi live together. The first preached the crusade in 114. The second inspired the foundation in 1217 of the first Franciscan monastery in France.
During your walk, you will discover the vineyard of Vezelay. Their wines have obtained the appellation Vezelay.
A hiking tour highlights Vezelay and its surroundings so bucolic. The loop of the vineyard leads the walkers on 12Km. You can find the maps of these excursions at the tourist office of Vezelay.
Do not hesitate to enquire for accommodation at our charming bed and breakfast during your stay in this region.
Share