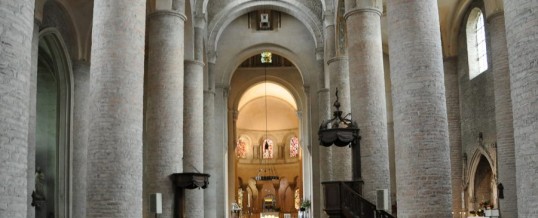 In Tournus, in our beautiful region of Burgundy where our charming guest house is located, this year we celebrate the 1000th anniversary of the Saint Philibert church, a masterpiece of Romanesque art.
It is in this place that will begin the evangelization of Gaulle. This monument carries an exceptional heritage that even the inhabitants of Tournus very often ignore. Here begins the evangelization of Gaulle in the second century. Christians are driven out of southern Europe and gradually move northward in search of more hospitable places. Escaping the massacre perpetuated in Lyon in the year 177, Valerian takes refuge in Tournus. He then decided to evangelize the local population, which earned him to be martyred in the year 179. The church should have been called St. Valerian, but a few centuries later in 875, monks from Noirmoutier, arrive at Tournus with the relics of Saint Philibert. King Charles the Bald offers them the property of the small monastery of St. Valerian. They install the sarcophagus of their saint in the crypt of Tournus. From this moment, the church becomes a pilgrimage site. The church is consecrated in 1019 and then bears the name of Philibert.
Today, this magnificent building has preserved its unique architectural ensemble. Everything is present: church, crypt, cloister, chapter house, cellar, refectory, and the chapel Saint Michel. This priceless heritage was spared during the French Revolution, because the monks had left the place ten years ago. Among the masterpieces you can admire, the great organ of 1629 is in a remarkable state of preservation.
On August 9, an exceptional concert by Barbara Hendricks will celebrate the millennium of the church.
Do not hesitate to contact our charming guest house to know our availability.
Share