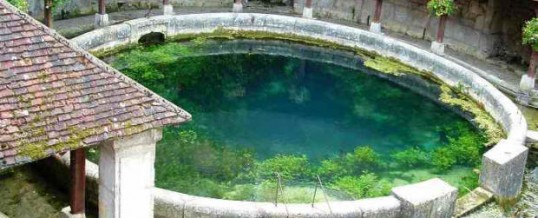 Located near our restored farm guesthouse in Burgundy. La Fosse-Dionne, the pit and the wash-house that surrounds it is one of the most beautiful sites of Tonnerre.
Take the opportunity of a stay at our farm guest rooms to visit the wash-house. The source that supplies the water, regarded as divine, has continually intrigued by the unknown origin of his deep blue water and its depth. Several followers of caving wanted to solve the mystery; unfortunately most expeditions ended in tragedy.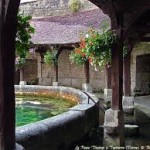 Many legends are attached to it. Include that of the Devil as a child picks up a nice amount of coins as a rider, the Devil, had dropped to tempt him, but never ill-gotten profits and money stolen only bring unhappiness to him; as he throws the rest of this evil money in the source that colored deep blue, proof that God has forgiven him.
According to another legend the color is due to the blue mantle of Virgin Mary. To save a young girl of way of the Devil, the Virgin spread her coat and a crater filled with water opened, allowing the girl to find salvation. But the Virgin probably forgot her coat because since then the water is still colored blue.
It is also said that a snake living in the pit was killed by St. John of Réome, permitting the place to be inhabited.
Do not hesitate to contact our restored farm guesthouse for your accommodation when visiting La Fosse Dionne.
http://www.yonne-89.net/fossDionnLeg.htm
Source Patrice Vachon / Editions Gisserot
Share