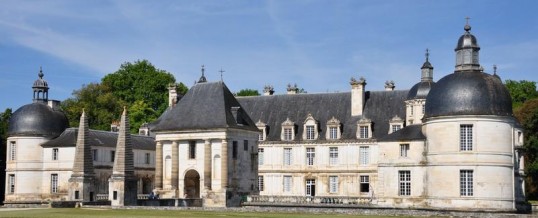 The château of Tanlay, located a few kilometers form our enjoyable b and b, is truly a manifesto of the French Renaissance in Burgundy.
Built between the XVI and XVII century, it is surrounded by moats and a beautiful park. Inside, admire the trompe l'oeil room and the tower of the Ligue with its surprising frescoes…
Did you know? During the wars of religion, it was a meeting place for the Hugenot leaders.
The former manor of Tanlay, attested from the nineteenth century has not left remains as old. Along with succession, it eventually fall to the family of Courtenay. They distinguished themselves especially in Constantinople. The history of the present castle is associated with the conduct of a troubled episode. Wars of Religion, and the reign of Louis XIII. In 1533, the last owner died childless. The manor was bequeathed to the children of miners still Gaspard de Coligny, Marshal of France and supporter of reform, and Louise de Montmorency, daughter of the constable. History of Tanlay castle merges with the dark hours as artistically creative of the French Renaissance and the Grand Siècle.
Please contact our enjoyable b and b for accommodation when visiting Tanlay.
http://www.chateaudetanlay.fr/
Share