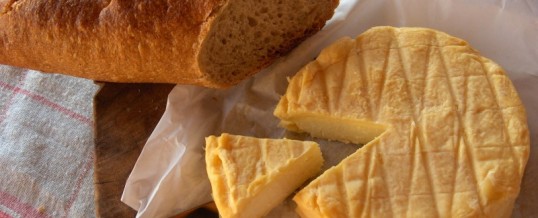 Our bed and breakfast in Burgundy is located a few kilometers from the village of Soumaintrain.
Soumaintrain is a pure soft cow cheese with washed rind. It is exclusively made with whole cow's milk, raw or pasteurized. There are two types of Soumaintrain:
– The Soumaintrain called « farmer », produced on the farm.
– The Soumaintrain called « dairy », resulting from a collection of milk carried out on several farms by a dairy.
At maturity, the Soumaintrain presents a pretty crust of pale yellow to ocher color, slightly wrinkled and always a little moist. Its paste, ivory white, is soft, smooth, slightly granular and delicately melting.
Flavor and history.
You are here in the borders of Burgundy and Champagne in a pretty corner of France. Soumaintrain is a verdant region of meadow furrowed by humid valleys (the Armance, the Yonne, the Serene, the Seine …). The climate is cool and humid, and the grassland is rich. The small village of Soumaintrain in the Yonne district is the historic cradle of this delicious cheese.
Soumaintrain is a small chain that has managed to preserve its know-how and promote quality and authenticity. Obtaining the PGI (protected geographical indication) in June 2016. The specifications of the Soumaintrain is a model of requirements granted, in deed of respect for this beautiful inheritance and an act of faith in the future.
The production area of ​​the Soumaintrain (for the production of milk as well as for the manufacture and refining of cheese) covers a part of the departments of L'Aube, Yonne and Côte-d'Or.
Please feel free to contact our bed and breakfast for your accommodation when visiting Burgundy.
Source : Fromagerie Berthaut à Epoisses.
Share