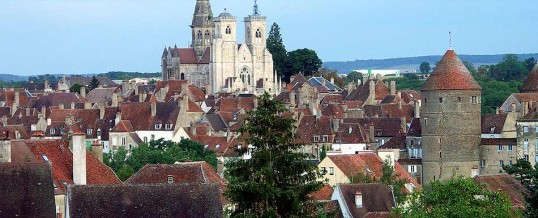 Semur-en-Auxois, a few kilometers from our Direct Booking B&B is an attractive city of 4,500 inhabitants where life is good.
It is ideally located between Paris and Lyon 7 kilometers from the interchange of the A6 motorway and 1 hour from Dijon, Beaune or Auxerre in the heart of the Pays Auxois.
In this medieval city, you will find a vibrant economic fabric, all academic and medical services, sports and cultural facilities.
From a remarkable natural defensive site, the men will build an exceptional city. Discover this Remarkable Heritage Site, its narrow streets, its keep, its church and the exceptional collections of museums located in the historical center conducive to a walk.
First step: obligatory passage by the Tourist Office located under the front-gate of defense (the Barbican) to get you the booklet of the arrow course «les 3 enceintes" true tool of meditation dedicated to the discovery of the emblematic monuments of the city.
Then go to Place Notre-Dame, where the church – whose construction extends from the 1220s to the 1450s – is a gem of Gothic architecture.
Located in the former convent of the Jacobins. The museum presents collections of paleontology of naturalized animals. Archaeological objects, paintings and medieval and 19th century sculptures, in an original museum reminiscent of cabinets of curiosities.
Not to be missed also, the quarter of the rampart with its bourgeois houses and mansions whose gardens are terraced to the banks of the Armançon. Do not forget its urban promenade built in 1752 on the fortifications of the old Castrum.
Feel free to check the availability of our Direct Booking B&B for your accommodation.
Discover more about:
Guided tours of the city by appointment for groups / Tuesdays at 3 pm in July and August.
For more information:
Tourist Office of Terres d'Auxois
2 Place Gaveau 21140 Semur-en-Auxois
Tel. 03 80 97 05 96
Source: Rue IMMO March 2019
Share