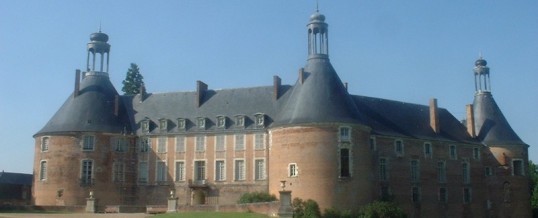 Arriving at the château of Saint-Fargeau, a few kilometers from our B and B in Burgundy, it's changing times.
It was in 990 that the forty-sixth bishop of Auxerre, Héribert, brother of Hugues Capet, had the foundations of the original château of Saint-Fargeau established. The imposing and vast current building flanked by its angles of 6 large towers dates from the thirteenth century. On February 15, 1450, the great financier of Charles VII, Jacques Cœur, made himself possessor. Subsequently, his property was seized and the property of Saint-Fargeau returned to Antoine Chabannes. But the children of Jacques Coeur, considering themselves unjustly wronged, sued the new possessor for a trial which they lost.
Antoine de Chabannes retained the property of the castle to which he brought certain additions. In memory of Jacques Coeur, and because the construction was attributed to him, the name of the rich merchant of Bourges was given to the biggest of the six towers of the château.
Saint-Fargeau fief was erected in county in 1541 then in duchy in 1578.
This castle will pass a few years later between the families of Montpensier. The famous « Mademoiselle » will take advantage of the exile where she was condemned in Saint-Fargeau, following her refusal to marry the King of Portugal, for the reconstruction of the residential buildings. Afterwards the château became the property of a president of the Parliament of Paris, Michel Le Pelletier des Forts, who died on the eve of the execution of Louis XVI, of which he had voted for his death, assassinated by a former bodyguard.
The beautiful park which surrounds the château contains a large lake which occupies part of the valley of Bourdon.
For 36 years, the château of Saint-Fargeau comes alive during summer. At nightfall, every Friday and Saturday, nearly 600 extras and 50 horsemen give life to the edifice of ten centuries. Volunteers gathered around the Guyot family, including Michel, who is the owner of the site.
The château is open to the public from March to November. Besides the view from the outside, visitors can discover through a guided tour, from the apartments to the carpentry.
Do not hesitate to contact our B and B in Burgundy for your accommodation when visiting the area.
Share