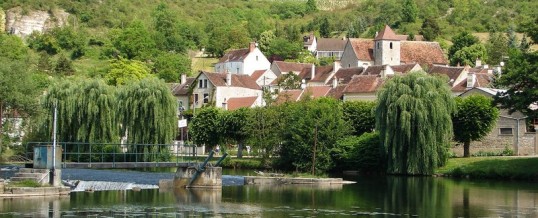 Located near our guest house, the village of Saint Bris is worth the detour for its circular layout and its location amidst vineyards and cherry fields. A village where history and vineyard have managed a beautiful mariage.
The origin of the commune goes back to the 1st century. There are ancient fortifications, half-timbered houses, Burgundy tiles, facades carved around a church erected from the 13th century in a mixture of Gothic and Renaissance styles. The bell tower is placed on a large square tower of the 13th century surmounted by an octagonal turret. The choir of the sixteenth century is richly decorated. In the nave, one can admire a monumental mural made in 1500.
It is thanks to excavations that archaeologists have found a bas-relief depicting a vintage scene in the 2nd century. In this part of Burgundy, the Cistercian monks, especially those of Pontigny, contributed to the development of the vineyard.
The village is built on a unique maze of medieval cellars, the deepest in Burgundy. Initially, these galleries are dug to protect themselves from the repeated sieges that will undergo the fortified city. Life underground is organized with pieces of life, stables for animals, cellars for grain and for wine.
Beneath the village is a multitude of galleries, a veritable anthill, which makes it possible to connect the streets of the village, much like the catacombs in Paris.
After discovering this charming village in the Yonne, stop at Domaine Pierre Louis and Jean François Bersan in their magnificent cellars of the 11th century to taste a glass of Saint Bris elaborated from a Sauvignon grape. You will appreciate its aromas of grapefruit and citrus fruits.
The Sauvignon is the particularity of Saint Bris with its unique AOC in Burgundy.
Do not hesitate to contact our guest house for accommodation during your stay in the region.
Share