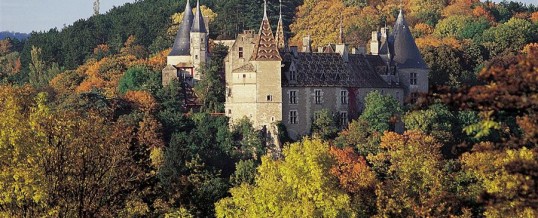 A few kilometers from our charming bed and breakfast in Burgundy, is the first Château de la Rochepot which was built in the eleventh century. Then in the 15th century the new castle is built on the foundations of the first. It is then a medieval fortress, property of Pot lords, knights of the Golden Fleece and advisers of the Dukes of Burgundy.
At the French Revolution, the castle is destroyed and the ruins will be sealed in 1792. Then it will be bought and dismantled to sell the stones and architectural elements.
It was in the nineteenth century that Cecile Carnot, wife of the President of the French Republic Sadi Carnot, became the new owner in 1893. She offered it to her eldest son. The latter will take more than 40 years to revive the castle from its ashes. It is completely reconstructed identically, based on excavations undertaken. And using archival documents and pen engravings dating from the seventeenth century.
All the architectural elements of the time that were responsible for the defense of the building are reassembled the same: drawbridge, barbican, and walkway.
The architect Charles Suisse will lead this titanic project. Father Bissey, priest of La Rochepot from 1852 will be the historian of the village. It gives very precise information on the ruins a quarter century before the beginning of the restorations. The northern front of the castle collapsed, a tower is disemboweled, kitchens and dungeon have completely disappeared, devastated courtyard and collapsed facade.
Today, this Neo-Gothic Burgundy's masterpiece has found all its beauty. Due to its magnificent glazed tile roofs. It is now listed in historical monuments and awaits your visit to amaze you.
This masterpeice is a must when travelling through Burgundy.
Do not hesitate to contact our charming bed and breakfast for your accommodation during your visit in Burgundy.
Share