The sarcophagi cemetery of Quarré-les-Tombes is located near our farm house in Burgundy.
Fans of mysteries and archaeologists are familiar with this Morvan village. All along Saint Georges church is a curious cemetery. No tombstone but 49 empty coffins with their Burgundy -Champagne-type covers for most, that probably can be dated to the Merovingian and whose origin is still enigmatic.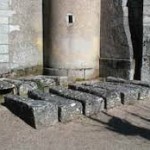 Local tradition evokes the presence of nearly 2,000 sarcophagi but their number decreased during the centuries. In 1674 they numbered about 500. In 1718 they were only 226 and 49 today!
Are we in the presence of a factory depot located in the village? Or a reserve to provide a necropolis related to an ancient sanctuary? The legends give us a very different historical perspective. These sarcophagi were intended for soldiers who died during a big fight victoriously led by Saint George against the Saracens or many pilgrims wishing to place themselves under the protection of the holy victorious infidels.
Another version suggests a struggle in the 9th century, with the Normans whose hero would have been Renaud, son of Prince Aymon of the Ardennes.
And the latest version comes from Albert Colombet eminent folklorist in the region. The Church of Quarré would have had the privilege to house the relics of a martyr saint and all the inhabitants of the region have held to be buried near his relics.
But which saint could it be?
Do not hesitate to contact our farm house in Burgundy for your accommodation while visiting this beautiful village.
Share