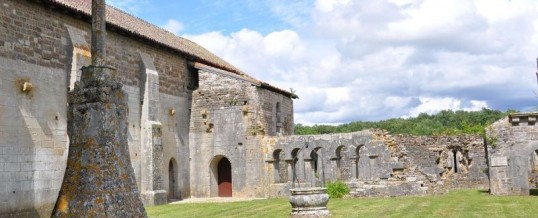 In Sauvigny-le-Bois, Yonne in Burgundy, near our hospitable bed and breakfast, you have to come and discover this mysterious priory.
The priory was built at the beginning of the 13th century on an old site where an ancient cult had already been practiced for 2000 years. It will welcome thirteen religious of the order of Grandmont. In the sixteenth century, during the wars of religion, the monastery is occupied and devastated by the Huguenots.
It will be restored in the seventeenth century by the prior of Vieupou. After the dissolution of the order by Pope Clement XIV, the building is sold in 1791; will become the place of life of hundreds of people (farmers, farm workers, etc.). The area of ​​200 hectares is again abandoned and partially dismantled to reuse the stones.
Here is silence. The religious spent their time praying. You can see the vestiges of the chapter house, the cellar, the refectory. The church and the house of the guards are better preserved. There are some objects of worship.
Some come from far to discover this place where legends and mysteries rub shoulders. The reason lies partly in the church built on the golden ratio, and its altar built over two rivers that intersect. Visitors experience beneficial waves.
During your visit, the guide will tell you the different legends born in the heart of this place. Perhaps, that of the devil on the roof, or the murdered monk. If you hear the heavy door slamming and the windows of the church vibrate, then the guardian will tell you: it's nothing, it's the devil!
Today, manage by the civil society of Avallon, the priory is visited and cultural events are often organized.
Do not hesitate to contact our hospitable bed and breakfast to know our availability.
Share