At the heart of the Puisaye in Yonne in Burgundy. A few kilometers from our pleasant guest house, fifty oeuvriers are up to an extraordinary challenge : build today a castle using the techniques and materials used in the Middle Ages.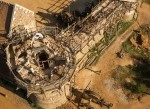 In the middle of a natural area providing all the raw materials required for construction. Stone, wood, earth, sand, clay … quarry-men, stone cutters, masons, woodcutters, carpenters, blacksmith, tile makers, carters, Basketry, tailpiece … build day after day a real castle.
This project, started in 1997, should last about 25 years.
Illuminating the middle ages:
In 2015, the team have built the castle's final rib-vault on the 1st floor of the Chapel Tower. The crenelated western walk-walk will be completed, as will the wooden gallery which skirts around the chapel. In the North Range, paving tiles will be laid on the Great Hall's floor. The woodsmen and carpenters will build a temporary wooden bridge. It will provide access to the castle's courtyard when building work on the gatehouse eventually blocks access via the fixed bridge.
Learning from experience:
At a time when environmental protection is of such concern, Guédelon provides practical lessons in sustainable building. This pioneering construction site offers information on cob or rubble walling. And also, lime-washes, traditional terracotta roof tiles, oak shingles, flax and hemp ropes.
Carpe Diem, pleasant guest house near Guedelon.
Share