This famous abbey that houses a large library, and will publish in 1951 the Zodiac collection whose quality remains a benchmark in the field of Christian art.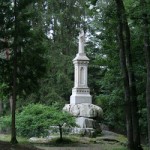 Pierre-qui-Vire Abbey is close to our bed and breakfast in Burgundy.Its reputation also comes from his stone to legend, the stone that moves, who had the power to turn every year at midnight to reveal a fabulous treasure. 
In 1850 the monastery of Santa Maria de la Pierre-qui-Vire, Benedictine abbey is founded by father Jean-Baptiste Muard.
In 1853 the monks decided to block this pagan stone which had been an altar of Celtic religion and place over a large statue of Virgin Mary.
They will put a bit of cement for security so that it can never turn. One is never too careful!
Carpe Diem bed and breakfast in Burgundy.
Talking about a monastery, is to speak of its history.  The monks of this monastery is not a gated community like, living away from others, they could be self content. But so commonplace it is, the story of a monastery is mentioned, hoping to let show through the mystery hidden there, human, divine: these men, these women seek for God.
Source Patrice Vachon / Editions Gisserot
Share