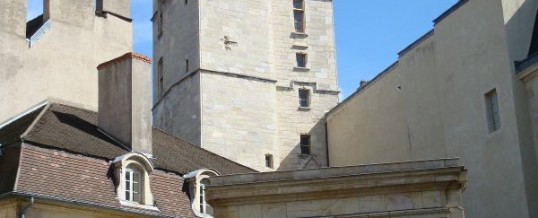 Located in one of the most beautiful towns of Burgundy, not far from our guest house: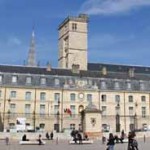 316 steps. Not one more. Promised. Not one less. This is what separates you from the majestic panorama offered by the Philippe Le Bon tower. Built by the Dukes of Burgundy, this signal, symbol of power, but also place of residence rises 46 meters above the Place de la Liberation. At your feet, Dijon.
The Terrace Tower. It is its original name. Dominating the whole Palace of the Dukes and the States of Burgundy. It took just ten years for the Burgundy stone building to take the form that is now known. By its height, the Dukes of Burgundy want to prove their power to the rest of Europe.
At that time, the palace is not as luxurious as it is today. The Duchy of Burgundy rivals power with the King of France. Its spiral staircase decorated with branches of vines, snails or acanthus leaves nevertheless a purely practical interest. It allows serving the body of the main house as well as several rooms with residential functions and a former scientific observatory on the top floor. The staircase ends with a majestic vault of carved ogives.
Once outside, the nickname of a town with a hundred steeples – as Francois 1er would have assured it – then takes on its full meaning. If the spire of the church of Notre-Dame seems to be within reach, on both sides of the town center rise different bell-towers: the cathedral Saint-Bénigne, the church Saint-Etienne…
The walls of the castrum, which surrounded Dijon, have disappeared. Before our eyes, the Place de la Liberation, designed by Jules Hardouin-Mansart, the architect of Versailles, came alive with glazed tile roofs becoming detached. It is that we dominate here one of the largest safeguarded areas of France, freshly classified as a Unesco heritage.
To the south, the Park de Colombiere presents itself as an endpoint to the fairways of the park, those which Louis XIV displayed as the « most beautiful of the kingdom. » In the distance, in fine weather, you can see Mont Blanc. Just that!
Our guest house is at your disposal for your accommodation en route to Dijon.
Source: j'aime la Bourgogne
Share