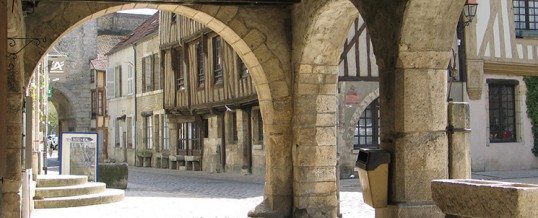 A few kilometers from our warm bed and breakfast in Burgundy, the medieval village Noyers Sur Serein offers tours from Thursday to Sunday at 3 pm.
Between timber and stone columns and carved pinnacles, granite and limestone pavement, narrow streets, lapped by the meandering turns of the Serein. Noyers the medieval, is aptly as « one of the most beautiful villages in France » .
Whether day or night. While taking the main road of the town, one could, with very little imagination see evolving knights. Or peasants, clergy and bourgeois. You would not be surprised at the corner of two streets to find a jovial figure of an old Burgundian or hear the song of a minstrel of the sixteen towers that line the walls.
Today, in summer, young Japanese musicians playing Brahms, Schubert or Chopin replaced the troubadours. Noyers the magician, manages the feat to hold together the avant-garde and the Middle Ages, the Naïve Art and timbered houses.
The historic and medieval village of Noyers-sur-Serein beats to rhythm of a vibrant artistic community. It is home to spring and summer music festivals. Concert. Art galleries and the museum of Naïve and Folk Art.
Do not hesitate to contact our warm bed and breakfast for accommodation when visiting the area.
Price for a guided visit 6,50 Euros per person. Refer at the Tourist Office.
http://www.noyers-et-tourisme.com/eng_index.html
Share