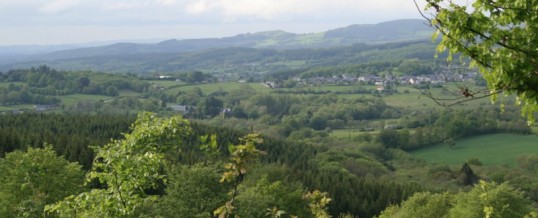 Connected to the four districts of Burgundy, the Morvan, located a few kilometers from our accommodation and breakfast, is the green heart of Burgundy.
A Regional Park protects this space and directs visitors in their discovery.
On the natural side, the Morvan has lots of possibilities. Between two hikes, you can enjoy a good sandwich "au jambon du Morvan" and prepare a Heritage program break.
On Mount Beuvray, 25 km from Autun, the archaeological site of Bibracte takes us back to the history of The Gaul. This ancient city of Eduens people was once a very important economic, political and religious centre. Today it is an excavation site where the remains are still visible; the Archaeological Museum presents many items found during excavations on the site.
Another pearl of the Morvan, is the Basilica in Vezelay eyeing on this pristine nature from its pedestal. Called the Eternal Hill it welcomes pilgrims who come to pray. To discover this masterpiece of Romanesque art or just enjoy the scenery.
Further north only 10 km from Vezelay, we distinguish between the trees of a wooded hill, the elegant silhouette of the Château de Bazoches. It impresses with its 4 towers and its keep. Place of inspiration for the great Vauban who developed his great theories of architecture and military tactics.
Other historical background, during the war, the Morvan was a high resistance place due to its topography and vegetation, it offered an ideal hiding place for men of the maquis, away from major roads and information and where foods were easier to get.
Do not hesitate to contact our accommodation and breakfast in Burgundy when you the Morvan Park.
Source Bourgogne tourisme
Share