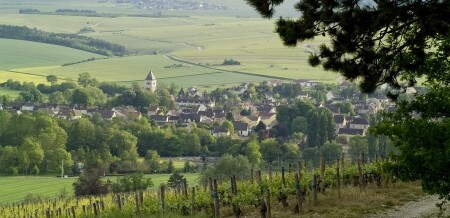 Chablis is located near our bed and breakfast in Burgundy.
Since 1923, the meticulous care of the vine-growers working together under the banner of La Chablisienne has given birth to unique Chablis wines. Please feel free to contact us for an accommodation at our bed and breakfast when visiting La Chablisienne.

These wines reflect the utmost care their winegrowers devote to the cultivation of their vineyards and the commitment their winemakers bring to revealing the heart and soul of the wines.
The story begins in 1923, when few winegrowers under the leadership of Abbot Balitrand combine to cope with the economic difficulties of the time and create a cooperative winery in the heart of the vineyards of Chablis, Burgundy, with the objective to sell their wines. Until the mid-1950s, members brought their production to Chablisienne which carries assemblies and sells mainly to the wholesale trade.
Then, eager to go even further and shape their style. The Chablisienne decide to bring in the harvest in the form of grape must, a feature that will allow total control of vinification. In an ongoing exchange, wineries and technicians are the link between the quality of musts and plots whose grapes originate and thus establishing guidelines for future vineyards and livestock.
http://chablisienne-com.blogspirit.com/
Share