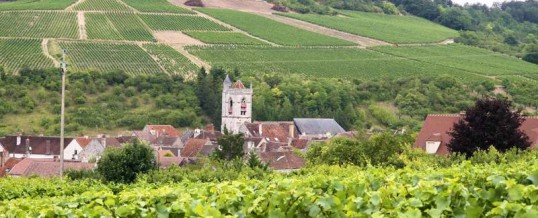 Please feel free to contact Carpe Diem for a fine accommodation when visiting Irancy.
This beautiful « wine village » of Yonne is proud to own the first AOC Communal Red of the district since 7 May 2000.
You will also enjoy the wines of the Côte d'Auxerre, wines of Epineuil, Chitry, Vezelay and the famous Crémant de Bourgogne. (Champagne method).
Wine Characteristics
This is a red wine made from Pinot Noir grapes. An unusual feature is that it may, if desired, include in its composition up to 10% of César, a traditional grape of this region. Rich in tannins, lively in colour, the César is a noble grape which lends the wine an interesting personality. Minor differences are observable according to whether a given cuvée is made with Pinot Noir only or includes an element of César. The strong crimson colour of this wine, shading towards dark red, is rich in highlights. The bouquet is bursting with fruit aromas (blackcurrant, Morello cherry, raspberry, blackberry) with sometimes floral, liquorices or pepper notes. On the palate, the tannins melt into a firm and velvety structure. Its acidity is sufficient to ensure excellent keeping qualities (3-10 years).
Situation
Irancy. In the Grand Auxerrois region, stands on the right bank of the Yonne river. Around fifteen kilometres South of Auxerre and South-West of Chablis. It is typical of the wine-growing villages of the district. It boasts a majestic church, as well as the house where G. Soufflot, architect of the Paris Panthéon, was born. The handsome winemaker's houses make a fitting setting for a red wine with such a long-established reputation. It was raised to the status of an appellation Village, which it shares with the neighboring villages of Cravant and Vincelottes, in 1999.
Terroirs
The hill-slopes hereabouts form a bowl surrounding the beginnings of a plateau below which runs the river Yonne. The slopes are for the most part composed of Kimmeridgian marls with an admixture of brown limestone soils and here the Pinot Noir grape flourishes at altitudes of 130-250 metres. Exposures vary, mostly southerly or South-westerly. Some terroirs have long been recognized as being of unusual merit.
Carpe Diem fine accommodation for bed and breakfast near Irancy.
Share