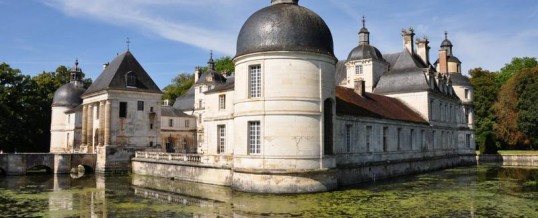 Near our hospitable guest house in Burgundy on Sunday, June 5th, 2016, the 6th edition of the Walk of the Three Chateaux. Tanlay, Ancy le Franc and Maulnes. Several routes from 8 to 52 km.
Walking around the three chateaux is a concept that combines hiking and the discovery of a rich heritage. It takes place in the Land of Tonnerre located in the southeast of the Yonne district in Burgundy.This is where is located our hospitable guest house
Located on the borders of the Yonne in the town of Cruzy-le-Châtel, not far from Tonnerre, Tanlay and Ancy-le-Franc. Maulnes Castle is a unique monument in France by the pentagonal shape of its plan centered around a stair-wells.
This Renaissance castle was built in the second half of the sixteenth century by influential sponsors.
It knew through the centuries various uses. But despite the outrages that subjected it to men and time, it retained an element of mystery and poetry which continues to feed our imagination today.
The castle became property of the Department who immediately began archaeological and historical research to guide its restoration.
The restoration began with the safe implementation of a trail that opens the castle to the public during the construction period. It continues with the restoration of common building and the facade, floor and roof of the main building.
Our hospitable guest house also provides dinner.
For further information: http://yonne.ffrandonnee.fr
Share