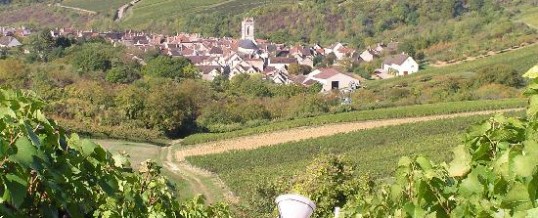 Viewpoints over the Yonne, district of Burgundy, where our charming guests room are located.
Some of its beauties are immediate; others can sometimes be discovered off the beaten track. The Yonne over its 7,247 km² presents a diversity of landscapes that can also be admired from above…
DRUYES -LES BELLES-FONTAINES AT THE FOOT OF THE VIADUCT, THE MEDIEVAL CASTLE ON ITS PROMONTOIRE:
With a length of 187.57 m and a maximum height of 30 m, the Druyes-les -Belles-Fontaines viaduct has 12 spans. It was built by the SNCF from 1880 to 1883, in order to ship wood, grain, stone and local products by train to large urban centers including Paris. The last train passed in March 1942. In 1943, the Germans dismantled the tracks and crossed them to expand their rail network in Russia. From the viaduct, with free access, we discover the medieval castle of Druyes-les-Belles-Fontaines on its promontory and the village built at its feet.
THE VINES FROM THE COURGIS ORIENTATION TABLE:
The Courgis orientation table, on the RD 62 which leads to Chitry, is one of three tables set up across the Chablis vineyard. If the vines were offered to Benedictine monks from Tours fleeing the Vikings in the second half of the 9th century, the Chablis vineyard was mainly developed by Cistercian monks. Today it has nearly 5,700 hectares of vines planted and its wines are exported all over the world.
THE LANDSCAPES OF MORVAN FROM THE TERACE OF THE BASILICA OF VEZELAY: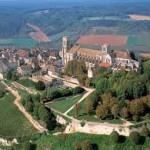 Located on the borders of the departments of Yonne, Côte-d'Or, Nièvre and Saône-et-Loire, Morvan is the smallest mountain area in France both in surface and in altitude (from 400 to 901m for the Haut-Folin). Its territory is mainly composed of agricultural areas (55%) and forests (43%, nearly half of which is coniferous), which can be admired from the terrace of the Basilica of Sainte-Marie-Madeleine de Vézelay, visited each year by more than a million people.
THE TONNERRE ROOFS AT THE FEET OF THE SAINT PIERRE CHURCH:
Built around the 11th century on a rocky promontory. The church of Saint-Pierre was almost completely burnt down by the fire of 1556. The restoration work took place from the end of the 16th century to the middle of the 17th century, which explains its architecture combining Italian Renaissance and classical style. At its feet are the rooftops of Tonnerre, a town crossed by the Canal de Bourgogne and Armançon. It is home to an exceptional architectural heritage, including the mysterious Fosse Dionne. The Hôtel-Dieu which inspired the Hospices de Beaune.
Do not hesitate to contact our charming guests room to find out about our availability during your stay in Burgundy.
Share