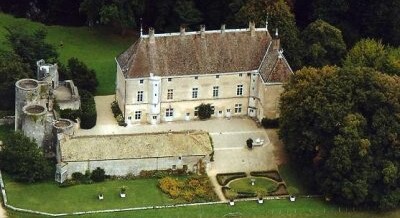 Take advantage of  your stay in our elegant B and B in Burgundy, to visit the magnificent castle of Germolles located near Beaune.
Germolles castle
This castle, rich in history, is the only princely palace of the Dukes of Burgundy still standing. In 1830, Philip the Bold offered it to his wife Margaret of Flanders. She transformed this austere domain in a luxurious residence with the help of the greatest Burgundian artists. The largest rose garden in Europe will be created in the park.
In 2013, the castle Germolles was awarded the « Distinguished houses ».
It became the favorite residence of the Duchess Margaret of Flanders, wife of Philip the Bold.  That was previously a « maison forte », an independent barn depending itself  from the château of Montaigu, near Givry.
The cellar and the lower chapel belonged to this old building in the thirteenth century. Margaret of Flanders became the owner of Germolles on September 30th, 1381.
Of course, she had other castles that belonged to her. Especially of her first husband, Philip of Rouvres, Capétien last Duke of Burgundy, who died at the age of sixteen in 1361.
If some estates in the region seem more spectacular, Château Germolles does not have less charm and authenticity. This above all considerable historical importance. Indeed, it is the only country residence in the ducal Burgundy which was given precisely from the marriage of Philip the Bold with Margaret of Flanders extensions to the north.
Château Germolles shows the transition from a war architecture and a search of comfort coming from Ile de France. A lifestyle of this ducal court which otherwise has so little remains evidence.
Feel free to contact our elegant B and B  for accommodation when visiting Germolles. Do not forget that we also supply dinner at our table d'hôtes. A booking in advance is necessary.

http://www.chateaudegermolles.fr/
Share