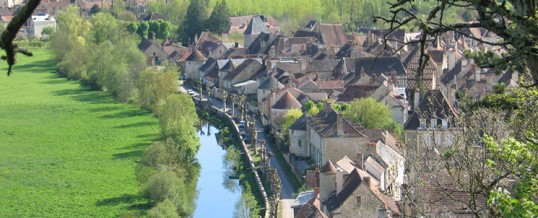 The medieval village of Noyers-sur-Serein is located 9 kilometers from our charming bed and breakfast, a friendly accommodation in Burgundy.
Throughout its turbulent history Noyers-sur-Serein remained a wine-growing village: indeed many cellar doors open directly onto the street!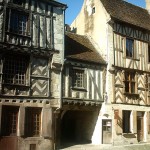 The attractive Place du Marché-au-blé reminds us that Noyers-sur-Serein was also an agricultural borough. In fact its name comes from the Latin word nux, meaning walnut. The entire village is a picture of rural prosperity.
One of « The Most Beautiful Villages of France », Noyers-sur-Serein has a remarkable heritage (XIIIth – XIXth century). Here each stone is steeped in history: the church, chapels, cobbled streets, squares and half timbered houses.
Discover this medieval market town and the panorama from the old castle site with a guided tour (available in English).
Every autumn the famous Burgundy truffle market is held under the arcades at Noyers-sur-Serein, with stalls selling pottery and local produce in the town centre.
On the subject of good food and wine…Why not take a trip along the Serein valley to the wine-growing village of Poilly-sur-Serein, at the heart of the Chablis vineyards.
Noyers is listed as one of France "most beautiful villages". Our friendly accommodation is located 9 km from the village.
http://www.noyers-et-tourisme.com/
Share