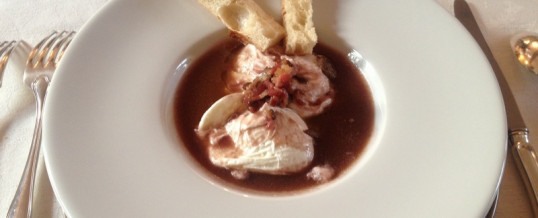 Here is a suggestion of fine dining recipe of Burgundy, where is located our charming guests house.
Oeufs en Meurette
(Poached eggs in a red wine sauce)
(4 people)
Sauce: 50g butter, 50 g diced unsmoked lardons, 1 small garlic clove, 2 diced shallots, 3 diced carrots, 20g flour, 500 ml fruity red burgundy wine, 250 ml chicken stock, 1 bouquet garni (2-3 thyme sprigs, 1 bay leaf, parsley sterns) , salt & pepper.

8 eggs, button mushrooms quartered, 50 g unsmoked lardons, 25 g butter.
For the sauce, put the butter, onion, carrot, shallots, garlic, lardons, bouquet garni, in a large sauce pan. After 5 minutes add the flour and stir well.  Add wine and let reduce by half.
Then add stock and boil until reduced by half (15-20 minutes). Bring to a vigorous boil.
Strain the sauce, pressing the vegetables to extract all the liquid, and then set aside.
While the wine is reducing, melt the half of the butter in a saucepan, add the bacon and fry until crisp. Remove and drain on kitchen paper. Sauté the mushrooms in with another half of the butter until tender (2-3 minutes). Remove and put with the bacon. Return the mushrooms and bacon to the pan and set aside.
To finish the dish, reheat the sauce on the stove.
Break the eggs one at a time in bubbling water added to 200 ml of white vinegar, so the bubbles spin the eggs. Lower the heat and poach the eggs for 3-4 minutes, until the yolks are fairly firm but still soft to the touch. Using a slotted spoon, remove the eggs and drain on kitchen paper. Trim off the stringy edges with scissors. Place the eggs on warm serving plates, and spoon over the sauce.
Do not hesitate to come and try this fine dining recipe at our charming guests house.
Share