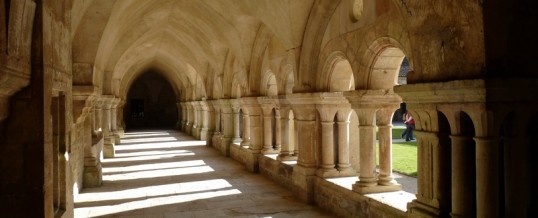 Do not hesitate to contact our fine bed and breakfast for accommodation when visiting Burgundy.
Fontenay Abbey was founded in 1118 by Saint Bernard in a marshy valley near Montbard. Originally a dependant of Clairvaux Abbey, Fontenay flourished up to the 16th century.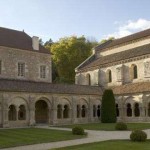 The new owners opened it to the public as a living museum of 12th century Cistercian monasticism.
-The abbey church has all the sober harmony of Cistercian architecture, a reflection of monastic life.
-A 15th century roof structure of the monks' dormitory looking like an upturned ship's hull
-Be sure to walk around the Romanesque cloisters, one of very few to survive intact.
-The forge, by the river, is one of the very earliest ironworks in Europe.
The tranquility of  Fontenay's setting is a must! During your visit you can see the forge hammer working just as it did in the 13th century.
A walking Tour:
« To fully grasp the meaning of Fontenay and the power of its beauty, you must approach it step by step, painstakingly, trudging the forest footpaths through the brambles and bogs in an October rain » (George Duby)
The Fontenay Abbey is nestled in a fully preserved and officially protect dale. Pedestrian paths invite visitors to enjoy an endless variety of strolls through the beech and ash forest. In a half-hour walk, one can see the Saint Bernard lagoon or the Munières park, where the monks used to mine iron ore.
Our fine bed and breakfast is half an hour drive from the Abbey.
http://www.abbayedefontenay.com/en/
Share