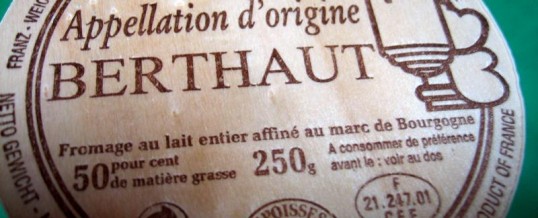 In the heart of the village of Epoisses. Not far from our accommodation and breakfast in Burgundy, Berthaut cheese dairy has distinguished themselves since 1956 by its requirement and quality. There were unique cheeses. Its quality was recognized by 98 medals at the General Agricultural Competition and the gold medal of the World of Cheese 2013.
Born 500 years ago in Burgundy, the epoisses is a unique cheese; it became AOC in 1991 and then AOP in 2003.
Soft paste with lactic curd with whole milk. Rubbed with the marc of Burgundy. The milk used is supplied by about thirty Côte-d'Or producers with breeds of local cows (brown, simmental French, montbéliarde). Respecting a secular recipe and gesture, Robert and Simone Berthaut revived in 1956 the epoisses which was disappearing.
Since then, the Berthaut cheese factory has produced a high-value product associated with the French culinary heritage. To achieve its quality requirement, the cheese dairy goes beyond the specifications of the epoisses. Aproduct that benefits from 5 weeks refining and up to 9 rubbings gradually enriched with Burgundy marc.
It accord to gingerbread and some seeds of cumin, gooseberries or blackcurrant from Dijon: a beautiful round and acidulous alliance that is found in some recipes of sorbet or tomatoes and potatoes on puff pastry or pie.
What bread to serve?
Your local artisan certainly offers excellent country bread, with a crusty crust … or, to leave the beaten path, more original breads with chestnuts, dried fruits or cereals.
What wine to propose?
Opt for a red burgundy: Côte-d'Auxerre (Irancy …), Volnay, Côte-de-Beaune (Savigny, Serpentières …) or Côte-de-Nuits (Gevrey-Chambertin …).
Do not hesitate to contact our bed and breakfast in Burgundy, for your accommodation, during your visit to Epoisses.
Source Fromagerie Berthaut.
Share