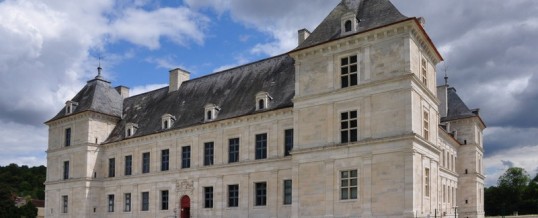 An amazing Renaissance palace on the lands of the Dukes of Burgundy near our elegant bed and breakfast.
The biggest collection of Renaissance murals in France make Ancy-le-Franc a direct contender of the Fontainebleau chateau.
The castle is the masterpiece of the famous Italian architect Sébastiano Serlio; He was a master of symmetry and of 16th century architecture, who was summoned to the French court by François I.
The Chateau of Ancy-le-Franc is a Renaissance jewel, set in the center of a large park in Burgundy. Located on the banks of the canal and only a few hours from Paris. An immense quadrilateral, which is a classified historic monument holds a rich decor attributed to some of the most celebrated Italian, Flemish and Burgundy artists of the 16th and 17th century.
Ancy le Franc castle contains one of the most beautiful collections of mural paintings of the 16th and 17th century in France. The guides tour gives you the opportunity to explore the apartments, lavishly decorated by painters from Burgundy.
Long galleries adorned with flamboyant decorations. Mural paintings representing mythological and religious scenes, chambers and cabinet with sculpted wainscots, extraordinary coffered ceilings, and sumptuous marble floors.
Visiting is a true journey through five centuries of history…
Feel free to contact our elegant bed and breakfast for accommodation when visiting the Château.
http://www.chateau-ancy.com/en/
Share