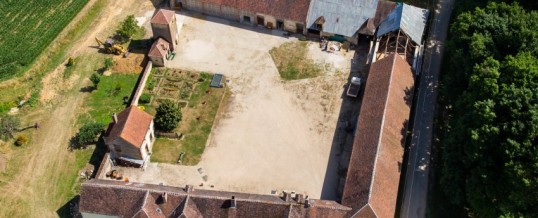 Carpe Diem is a direct booking guesthouse near the Grange de Beauvais.
IT IS LOCATED APART FROM THE VILLAGE OF VENOUSSE, LEANING AGAINST THE LAST EXTENSIONS OF THE FOREST OF SAINT-GERMAIN, DOMINATING THE VALLEY OF THE SEREIN. THE CISTERIAN BARN OF BEAUVAIS BUILT IN THE 13th CENTURY LOOKS AT PONTIGNY AND THE ABBEY.
Founded in 1237 on the municipal territory of Venouse, the "Grange de Beauvais", which depended on the Cistercian Abbey of Pontigny, nestles in an intact site overlooking the valley of the Serein and the abbey. It was directly exploited until the fourteenth century by lay brothers, then by farmers until the French Revolution.
Sold in April 1791 as national property, the estate has retained its agricultural and pastoral vocation until 1995. The association 'Grange de Beauvais' created in April 1791, is mobilized to save and revive the site. She undertook her restoration as part of youth and volunteer projects and offers some punctual animations.
She will host on April 6 and 7, the 'Family Week' operation in her closed courtyard. « This is an opportunity because this event can bring us visitors who would not have come to the barn spontaneously, » says Patrick Henry, president of the association. And we are happy to welcome our tourism development partners of the department. « 
The volunteers will offer themselves several animations: a digital workshop in the workshop of the lay brothers (Fablab), with 3D printers, digital embroiderer, genealogy workshop and soon photo and video laboratory. The bake house, which will produce two days of fast food (gougères, French toasted bread, pies …) A discovery of the conservatory of grape varieties.
The site also has an apiary, a dovecote of the nineteenth century, an open hall of 230 m2, a shop. They also have a garden of medieval inspiration as well as a market garden in agro ecology.
Other resources of the place: the rehabilitated path of 2.5 km that borrowed the lay brothers to go to Pontigny Abbey.
THE NEXT MEETINGS:
– May 12: Cister'Art: day gathering all the creative arts
-30 May: Hiking of the lay on 3 circuits.
Consult the availability of our direct booking guesthouse for your accommodation.
Source: Au Fil de L'Yonne / N ° 155
Share