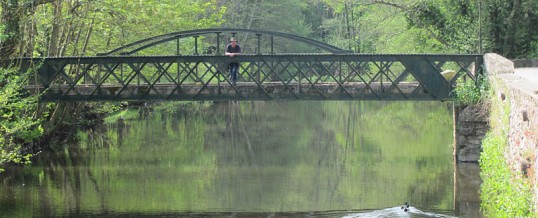 The Cousin is a bucolic river that winds between Avallon and Vézelay. It is located only a few kilometers from our charming guests rooms in Burgundy. Wonderful between granite rocks and luxuriant vegetation. It hides a multitude of old mills. It testify  the time when this peaceful valley overflowed with industrial activities, such as the tanning of leather.
From the old Avallon, the road leads to the Cousin. We have there a magnificent view of the terraced gardens on the foothills of the city. At that time, the wealthy people living in Avallon resided on the heights of the city. The workers occupied the lower part of the city, working in the various tanneries that defiled the river and made the place unsafe.
Today, the river has regained its natural richness with its red reflections in places of the granite that lines its bed.
Throughout its 67 km, the bed of the Cousin is enameled by small stone walls that constituted so much reservoirs of water to feed the 32 mills of the valley. Some crushed the oak bark to tan the hides. Others made flour, pressed hazelnut oil or nuts, or made pulp.
Along ten kilometers, the river lizard in a multitude of charming loops as far as Pontaubert.
The town of Pontaubert, built around a primitive bridge built in the ninth century by Aubert, Count of Avallon, bears the traces of the hospitallers of St. John of Jerusalem. The Romanesque church of the twelfth century, which was that of the former commandery, testifies to the power of order.
Passed Pontaubert, the Cousin takes his ease, in a valley that widens. The watercourse feeds the moat of the castle of Vault de Lugny, a 5-star establishment renowned for its restaurant and its hotel. Close to the castle, the church of Vault (15th century) deserves the detour for its 13 frescoes of the gospels.
Our beautiful river, the Cousin, will finish its course and throw itself into the Cure.
Thank you for using our charming guests rooms in Burgundy.
Share