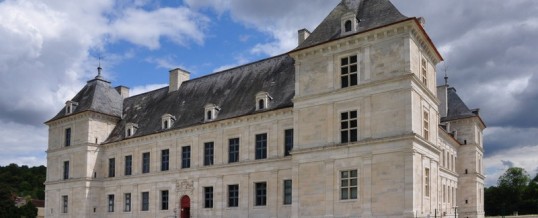 MUSICANCY offers in 2015 from May to October 7 Visit concerts and one musical walk in the Chateau of Ancy-le-Franc, located near our elegant guest house. This jewel of the Renaissance in Burgundy, is close to Tonnerre, Chablis and Noyers sur Serein.
Music Walk in the Park:
Music lovers walkers, parks lovers, you are invited to discover the park of Ancy-le-Franc in music. In 1759 the descendant of the Marquis de Louvois, the Marquis of Courtanvaux transformed the gardens designed by Le Nôtre in an English park.
He dug an artificial lake south of the building, with a romantic island on which he made build an octagonal « extravaganza » to house his idyllic leisure, elegant testimony to this period.
As you walk around the lake, in the shade of the centenary trees, you will discover diverse and unexpected music.
Departure of walks at 16h, 17.15 6:30 p.m.
A bracelet will be given to allow you to come and go
The visit of the chateau of Ancy-le-Franc, followed by a concert in the guard room or yard (fallback in the orangery). Each concert is unique. A musical walk in the park is also proposed in August. Our guest house is 20 km from Ancy-le-Franc.
Feel free to contact our elegant guest house for your accommodation.
Château d'Ancy-le-Franc
18, place Clermont Tonnerre
89160 ANCY-LE-FRANC
Web site: http://www.musicancy.org
Share