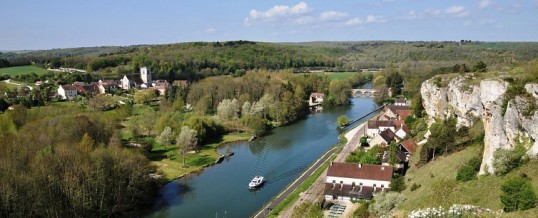 Located on a rocky promontory surrounded by greenery, Châtel-Censoir is situated a few kilometers from Vezelay and our guest house in Burgundy.
A quiet village where a halt is essential to discover in peace a beautiful nature. A place of ideal walk. Indeed the village is bordered at the same time by the river Yonne and the canal of Nivernais where is a pretty marina. Surrounded by mysterious forests and caves, such as the Fairy Cave, hiking and cycling tours await you. In 1547 Charles Lecomte, invented the first wooden train floating on the Yonne to Paris.
Châtel-Censoir, near the famous Saussois Rock, is home to pretty bourgeois houses and ancient fortifications. The village has seen the birth of famous personalities, from the historian, MP and Minister Vaulabelle to philanthropist Edme Champion, founder of Paris soup kitchen.
In the center of the upper town, follow the small winding streets. Discover the hidden riches of the village. You will reach the Collegiate Church Saint-Potentien. It is classified as a historical monument, built on the site of an ancient Gallo-Roman temple and completed during the Renaissance. The construction of the church began in the 10th century.
The choir is Romanesque and the capitals are Romanesque-Burgundy style. Visiting the chapter house, you can admire a floor of glazed tiles dating from the 13th century. Whereas in the crypt, there are traces of frescoes. In the collegiate church, you will be able to contemplate beautiful polychrome sculptures.It includes that of Saint Anne, educating the Virgin. A work dated from the 15th century.
In the village, the Vaulabelle house is also classified as a historical monument.
Do not hesitate to contact our guest house in Burgundy for your accommodation while staying in the region.
Share