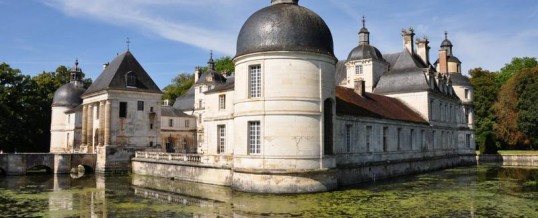 Jewel of the Renaissance a few kilometers from our lodging house in Burgundy.
Admirable construction of the 16th and 17th centuries. Built in the heart of the village by the family of Admiral de Coligny. Completed by a relative of Mazarin. Kept by the same family for three centuries. Remarkable architecture, stroll along the Canal perspective. Renaissance frescoes and trompe l'œil, furnished and decorated rooms.
In 1553, François d'Andelot started the construction of Tanlay on the foundations of an old fortified castle. His brother Gaspard de Coligny used to meet there with his Protestant allies, at the top of the "Tour de la Ligue". An amazing fresco attributed to the school of Fontainebleau can be admired here showing the most significant politicians of the Religious war period as antique gods and goddesses.
Mazarin's financial administrator Michel Particelli had the castle completed from 1643 to 1648. Architect Pierre le Muet realized this beautiful whole including the big and the small castle, the outbuildings, and the Grand Canal leading to the monumental nymphaeum. King's court artist Remy Vuibert painted the exceptional Large Gallery in the "trompe l'oeil" style after designs by Nicolas Poussin
The domain was  raised to a marquisate for  the benefit of Particelli's son-in-law, and sold in 1704 to Jehan Thévenin,, a counselor of Louis XIV and governor of Saint Denis. Thévenin was confirmed as Marquis of Tanlay by the "Sun King". Tanlay still belongs to the same family; of which each generation has contributed to the castle's interiors maintenance and enrichment.
Please feel free to contact our lodging house in Burgundy for accommodation when visiting the area.
Share