Located in Burgundy, in Yonne. A few miles from our pleasant b and b, this chateau  built 1,000 years ago, has always belonged to the same family. Impressive fortress has 8 towers that give it its fairy tale side.
This chateau, listed as a historical monument, is privately owned. It is open to visitors and its 20-acre park designed by Le Nôtre.
The Family of Ch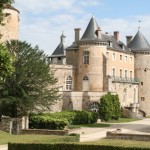 astellux has marked the history of France over the centuries. Especially in the time of Joan of Arc when the Bourguignon were fighting the French, and during the American independence with Chastellux Marquis. He was a great friend of General Washington and cousin of Lafayette.
Often remodeled but still looking great. Château of Chastellux, assailed by dark dense woods, overlooking the river Cure the top of a granite escarpment. It watches over the small hamlet of Pont. A cozy and modest inn meets the high castrale figure flanked by towers Clock, Amboise, the Hermitage and Archives.
A harsh and beautiful site, strongly characterized and leaving an impression of grandeur, well built to bring better than elsewhere all the weight of history.
Please no not hesitate to contact our b and b for your accommodation.
If you're lucky, the actual Earl of Chastellux  will comment the visit, he is a real character to discover. Make Carpe Diem your bed and breakfast during your trip.
Carpe Diem, pleasant b and b in Burgundy.
Share