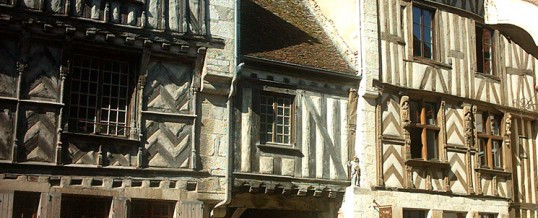 Benefiting from the TripAdvisor Certificate of Excellence, Carpe Diem, charming guests house is located near the medieval old town.
Nestled in a meander of the river Serein, Noyers with roofs covered with scales called « lavas », tightened between its ramparts with round towers. Surrounded by forests. Meadows and hedges. This pretty town of Tonnerrois offers, along its charming streets, a fine sampling of Burgundian architecture. From the modest homes of winegrowers on single-storey cellars to half-timbered houses of wood on arcades, passing by beautiful Renaissance residences in carved stone.
The town hall square is surrounded by pretty 14th and 15th century half-timbered houses and arcaded houses. The town hall has an 18th century facade. It is surmounted by a curved pediment and decorated with wrought iron balconies and pilasters.
Place du Marché-au-Blé is triangular, lined with old houses, one of which is in stone, with arcades and gable.
L'Eglise Notre-Dame is a large building dating from the end of the 15th century. Its Renaissance facade, its square tower and its gargoyles are remarkable. Not to be missed, its imposing buttress with buttresses on the north facade, the strange sculpted figuration of a recumbent figure.
By the quality of its landscapes and its proximity to Paris, the Serein Valley has managed to attract a number of lonely artists. The Noyers Museum, located in the southern wing of the old 17th century college, bears witness to this with its paintings of the Russians. Kikoin, Soutine and Krémegne. It also houses, on three levels, rooms with local paintings and stories and interesting collections of paintings of naive art.
At the bottom of the Porte Venoise you can climb to the site of the old castle. A pretty panorama of the village and the valley.
By a shaded walk along the river, one can appreciate 7 of the 23 towers that once defended the city.
Contact us to find out about the availability of accommodation in our charming guests house.
Share