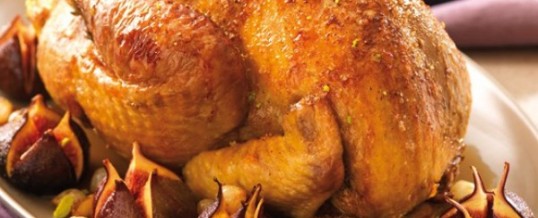 It is a specialist deal in the region of our accommodation in Burgundy.
This is one of the main dishes of the holiday season. The capon, known for its taste, its tender and firm flesh, is a poultry aside, it demands a special know-how.
Just stop in front of a butcher shop. At any one, and question them on the capon. Immediately, the Christmas memories rise to the surface.
For the initiated, the capon is synonymous with family meals. End of year celebrations. A "Madeleine de  Proust".
For non-specialists, on the other hand, the subject is rather vague. First, what is a capon, precisely?
Answer: a young rooster castrated and fattened. An affirmation that generates a second question: concretely how does one get a capon? By a medical operation called "chaponnage", practiced on a young cock.
Each year, about 300 capons leave the "Ferme la Bilouterie" in Dollot, located in the north of the department, mostly at the end of the year, for the holidays, of course. They are cast at about a month. In their case, they are slow-growing males. They need more than six months to make good capons.
Besides surgery, what makes a capon is his diet. Fot the last two months, they feed on corn and milk.
The specific feed of the capon has a precise objective: to obtain a meat having taste. The meat should be mellow and tasty. It is a success if you have a fatty meat inside.
If a capon is less than 2.5 kg there is a problem. Two kilos five is the limited weight to build memories.
This is a famous plate to try while touring in the region of Burgundy. Have a try.
Please feel free to contact our accommodation in Burgundy for accommodation during your stay in the region.
Share