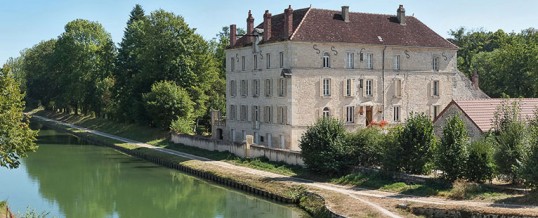 Along the canals or the Yonne River. A few kilometers from our overnight accommodation in Burgundy, boaters cross walkers, runners and cyclists by the water.
Yonne has given its name to the department and the river, with the canals of Burgundy and Nivernais giving it one of its main assets. The presence of water that irrigates it from north to south and from east to west. Inhabitants of Yonne understand it, at the first rays of sunshine; they jostle on the towpaths, arranged between Auxerre and Clamecy by bike-way.
Hiking enthusiasts and runners alike come alongside cyclists. No need for an electric bike to pedal along the Nivernais or Burgundy Canal. The big advantage of these paths is that they are always flat!
Some of the cyclists have a strong foreign accent. If you cross them, it is a safe bet that they are boaters coming from abroad to take part in a river cruise. The hirers are numerous in the department and the holidaymakers of Northern Europe are particularly fond of this type of holiday by boat.
The Canal du Nivernais is renowned for the beauty of these landscapes. Those of Burgundy are teeming with stages for lovers of castles and heritage. Rare are the inhabitants of Yonne who choose to make a river cruise at home. Yet the experience is interesting. Seen from the boat, landscapes and monuments offer another perspective. And the speed of cruising small barges, still slowed by the passage of locks. It allows enjoying the countryside and village life at a different pace.
It is all the more unfortunate to be deprived of this discovery that the renters often offer rental formulas at the weekend. Two days on the water and one night on board are enough to get away … without leaving the borders of Yonne.
Do not hesitate to contact our overnight accommodation in Burgundy to extend your stay in the district of Yonne.
Source  » « je passe l'été dans l'Yonne ».
Share