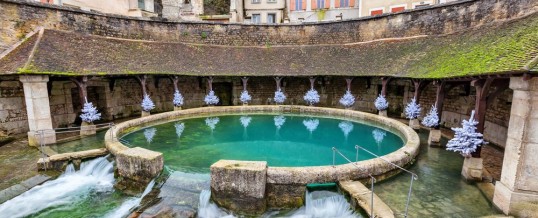 The Tonnerrois, near our beautiful guest house in Burgundy, is a region very rich in discoveries. The varied landscapes offer vineyards and castles, forests and typical villages to which limestone gives its white color.
Wine and heritage blend in perfect harmony, offering visitors to large forests, numerous castles and the Burgundy canal that crosses it.
Located in the Armançon valley, Tonnerre, a small Burgundian town, is on the road to Saint Jacques de Compostelle.
The Armançon and its reach, the mysterious waters of the Fosse Dionne and the Burgundy Canal, gave it the name of little Burgundian Venice. La Fosse Dionne, with its many legends, was built on a spring in 1758 by Louis d'Eon, the grandfather of the famous Chevalier. Around a circular basin, the washhouse is arranged in an arc with 4 chimneys. These were used to prepare fires in order to recover the ash used to wash and launder the laundry. The 14-meter diameter basin offers an extraordinary spectacle thanks to its turquoise waters and its yawning chasm.
Saint Pierre church, which overlooks the city, offers a wide panorama of the city and the surrounding wine hillsides, such as Epineuil. An association organizes visits to this magnificent building.
The Hôtel-Dieu Notre Dame des Fontenilles was founded by Marguerite de Bourgogne, sister-in-law of King Saint Louis. Its roof is impressive. It has an area of ​​4500 m2 in Burgundy tiles. The sick room, built like a church, is huge.
Take a stroll through the city to discover the old streets with gabled houses. Small narrow stairways. Renaissance hotels, such as the Uzes hotel. The noble 17th-18th century residences in the rue du Pont district. It is in this street that the family home of the Chevalier d'Eon, diplomat and spy of Louis XV is located.
Contact us to find out about the availability of accommodation at our beautiful guest house in Burgundy.
Share