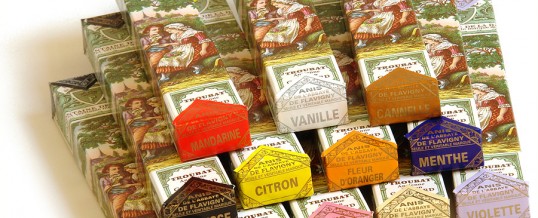 During your visit to the village of Flavigny-sur-Ozerain, ranked among the most beautiful villages in France, discover the factory of anise sweets known throughout the world. Our charming guests rooms are not far.
Secret manufacturing dates back to the 9th century. The Benedictine monks are at the origin of this recipe. Queen Blanche of Castille and King Louis XIV loved these little treats. In the years 1800, eight companies made these treats in the village. In 1940, we find these small boxes in the vending machines of the Paris metro. Each year, 220,000 million sugar coated candies are exported worldwide. Today, Flavigny anise is available in organic version and with new flavors: violet, mint, tangerine, blackcurrant, licorice and ginger.
Nowadays, 30 people work for the company and its shop, its museum and coffee anise. The manufacture is located in an old abbey. Only a few people hold the secret of making these little candies. The know-how of its drageists, who cover the seed of anise with thin successive layers of sugar syrup, is irreplaceable. It takes fifteen days to turn a small natural two-milligram anise seed into a one-gram candy. Even though the oval metal boxes have changed their design over time, we still find themes dear to our childhood.
Feel free to check at our charming guests rooms for your accommodation during your visit in Burgundy.
Share