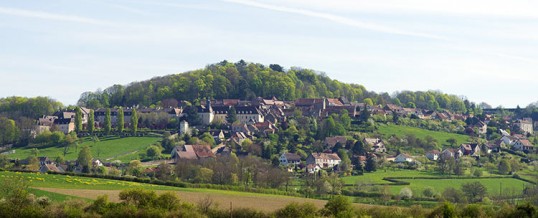 Alise-Sainte-Reine is  not far from our holiday house in Burgundy.
The miraculous water of saint Reine owes its reputation to saint Reine. Its miraculous fountain whose waters were sold in the 18th century by thousands of bottles in Paris.
Their relics, chapel and mainly the miraculous spring, attracted countless pilgrims and for the inhabitants a source (miraculous) for souvenir sales. Especially rosaries made with bones.
Now the water is not sold anymore. Inhabitants of Burgundy, as well as tourists, prefer to taste the Kir. This aperitif made from white wine, white grape and blackcurrant which owes its fame to the famous canon Kir, a native son.
Yet the cult of saint Reine is always important. Every year a procession in costume like in the old days, and a performance of the mystery of saint Reine, is played by the villagers at the "des Roches"  theater .
Alise-Sainte -Reine which no longer denies that it is the historic site of Alesia. It is hard to imagine there in a landscape so peaceful and rustic, enchanting when the trees are in bloom. Before this town stretched along the slopes of Mount Auxois, fighting, violence, cries and suffering of the siege of Caesar.
Carpe Diem charming holiday house in Burgundy.
Source Patrice Vachon / Editions Gisserot
Share